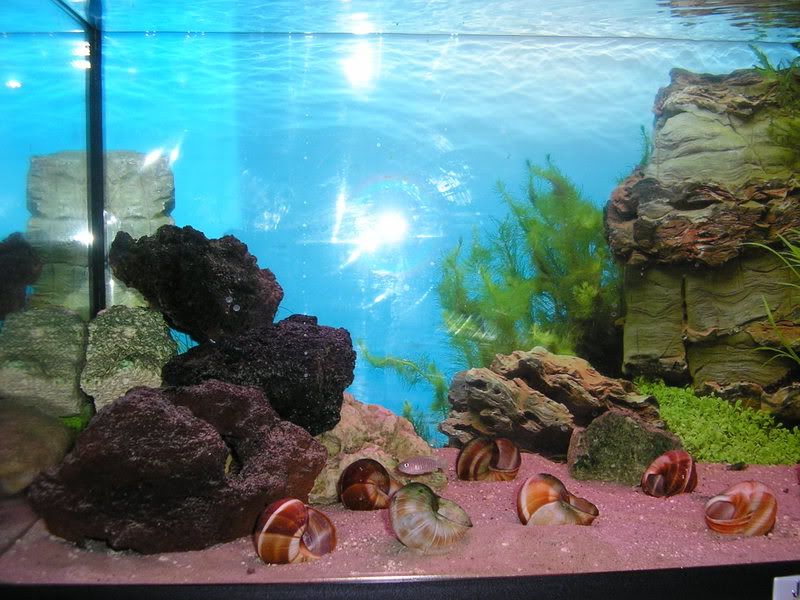 Before I begin, let me say that I will not be entering the photo competition.
A tank for a pair of Tanganyikan shelldwellers needn't be large, 2 ft is adequate, although the larger the better.
My tank is a Juwel 80, measuring 32x12x12.
Substrate must be sand, I have used marine sand here, but there are various types of sand that can be used.
Rockwork isn't necessary because the fish won't use it for anything, but a tank will look bare with just a mound of shells, plus it will help with the ph, so i add a couple of small stacks of tuffa and lava just for a visual effect.
A lot of people just use a sponge filter for these fish, but with using Juwel tanks, the filter is built into the setup.
The most important item is of course shells.
Species like Lamprologus Signatus need just one shell each, with the young sharing their parents shells. This is o.k. until the parents spawn again, when the young will be driven away.They will then have to be removed from the main tank.
Species like Neolamprologus Multifasciatus will need plenty of shells, because the young will stay with their parents and form a large colony.This species must have at least one shell each,if not more, or else there will be aggression in the tank.Two shells per fish is ideal.
I have got a pair Multifasciatus in the tank pictured above, with ten shells, and both the male and female have visited all the shells several times over the last 48hrs.
Temperature should be between 23 & 27 degrees, with a ph ideally between 7.8 & 8.6.
Shell dwellers require very stable conditions, so a 10% water change per week is ideal, but when the fish have young, up it to 20% per week. It is better to do 2 water changes of 10% per week than one change of 20%.Mine get water changed on a Wednesday and a Sunday.
If you keep these fish in good condition, with live foods twice a week
(brineshrimp is best), these fish will breed every 6-8 weeks.
These fish are great for beginners to Tanganyikans, because they are easy to keep, easy to breed and don't require a very large tank.