Here's a species profile I wrote last night on one of my fave aquarium fish with my pictures from when I was breeding them!
Hailing from East Africa's Lake Tanganyika, this active and attractive catfish is a popular occurence in the hobbyist aquarium. With attractive spotting and a take-no-crap attitude they're a perfect addition to the african cichlid aquarium. They grow to a modest 5 inches in the aquarium and require only a 40-gallon tank to be happy and healthy. You can even breed them in tanks of this size.
These catfish are relatively easy to sex when they're mature. The fish take two years to mature before they will start spawning successfully. The male are generally more elongate with a visible genital papillae. Females are more stout and rounded with no visible genital papillae.
Male, notice the visible genital papillae and overall body shape.
Female.
Breeding is where these catfish really stand out. They practice brood parasitism which is unique to this species. Often referred to as Cuckoo Catfish, these catfish rely on spawning mouthbrooding cichlids as hosts for their young. They are triggered to spawn by mouthbrooding cichlids which they seek out by smell. The catfish form a single file line and storm into the pair of spawning cichlids. In the chaos, the female cichlid tries to recover her eggs and in the midst of the comotion, she picks up the catfish eggs. The catfish rely on panic and numbers. They spawn best in small groups instead of a pair. The non-spawning catfish act as decoys for the aggressive male cichlid who attempts to protect his spawning area.
The catfish eggs are larger than the cichlid eggs and hatch within three days. The young catfish are highly predatory with a very large mouth. They ingest the cichlid eggs one by one within the confines of the female cichlid's mouth. They will even cannibalize eachother if there isn't enough food to satisfy their appetites.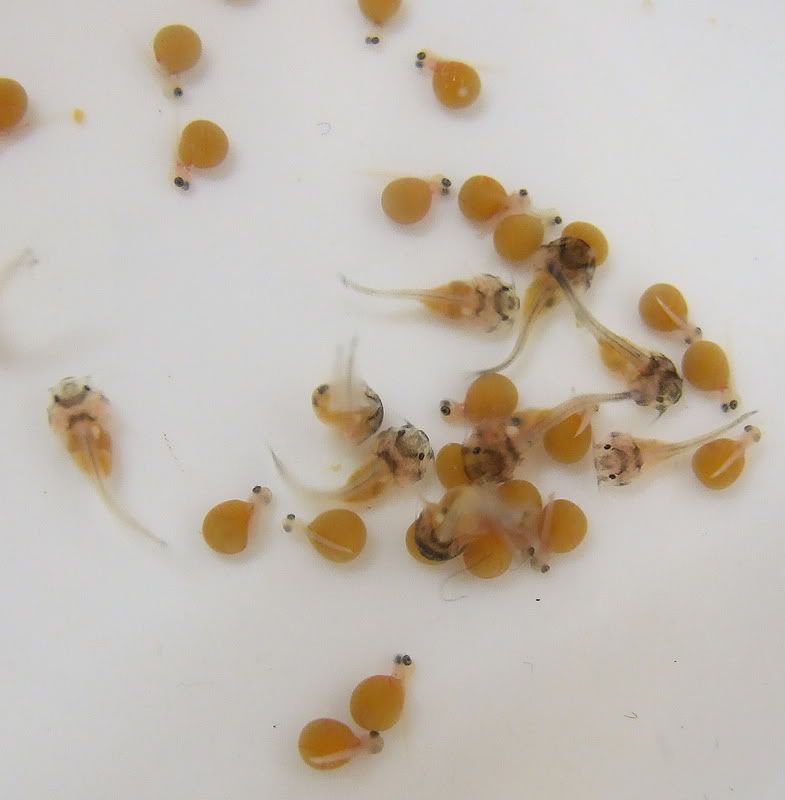 Catfish fry mixed with Labidochromis perlmutt fry.
The catfish fry grow very quickly and this growth can be seen on an almost daily basis. It's important to provide them with plenty of food and clean water. Because they require so much food it's more likely to foul the water, and thus water changes are a necessity every few days. I like to do daily 25% water changes and siphon out as much feces and mulm as possible.
The fry can grow up to 2 inches in just 8 weeks if provided with plenty of food and clean water. Spawn sizes are entirely dependant on the female cichlid. A young female may only hold a few eggs, while adults can carry substantially more.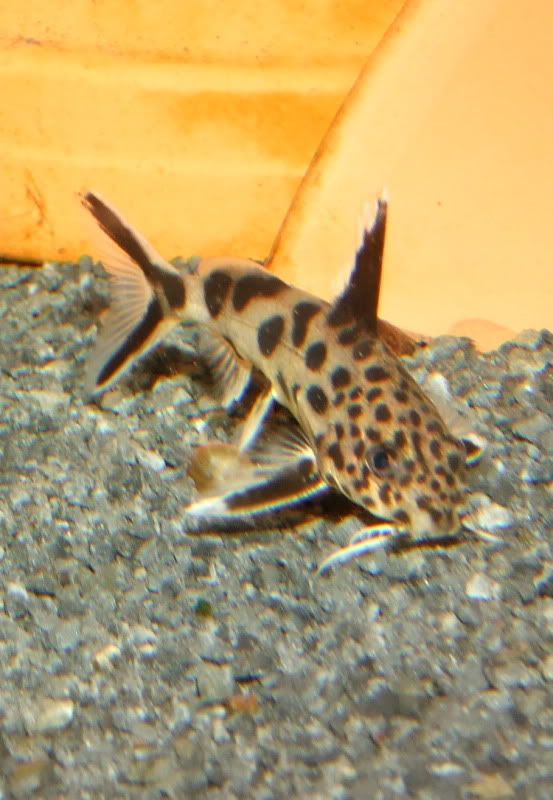 Good hosts include Astatotilapia/Haplochromis species from Lake Victoria, and Haplochromis, Aulonocara, and less-aggressive Mbuna from Lake Malawi like Gephyrochromis and Labidochromis. All these fish have similar water parameter requirements to these catfish and thus there's no discrepancies. A sufficient amount of caves should be proved to the catfish, typically with a cave available per catfish. They are territorial and will fight if their tank is cramped or there aren't enough hiding places. The more places they can take refuge and feel safe, the more they will be out cruising around.
Their diet is relatively undemanding. Catfish pellets or disks are sufficient with the occasional treat of frozen mysis or bloodworms to keep them in top condition. They will also nibble at vegetable based foods like spirulina disks.
In conclusion, if you're looking for a fun new fish to work with I highly suggest trying out the Cuckoo Catfish.